Ravi Kumar Dahiya | The success story of the Tokyo Olympics silver medallist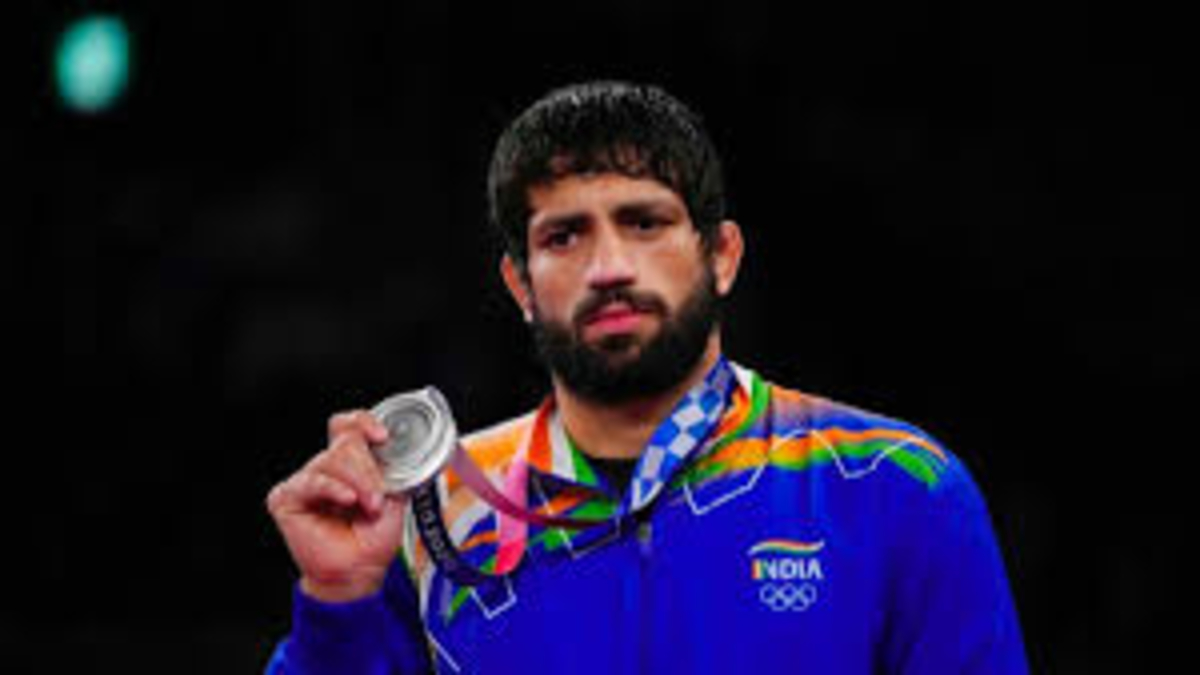 On 5th August 2021, Ravi Kumar Dahiya etched himself in the pages of history by winning Olympic silver in wrestling. The 23-year-old became the second Indian wrestler to get a Games silver. He is also a bronze medalist from the 2019 World Championships and a two-time Asian champion. But, his journey to success was not an easy one. Dahiya faced quite a lot of challenges while training to become a wrestler. His success story is an inspiration to sportspersons all around the world.
His early days
Ravi Dahiya belongs from Nahri village in Haryana. Ravi Dahiya's father Rakesh Dahiya, a farmer, worked in rented paddy fields. Ravi's father is also an equal participant in his Olympic glory. He made a lot of sacrifices and ensured Dahiya never felt any shortage of resources and support, despite living 70km far from his son. His father travelled every day for over 10 years to deliver milk and fruits to Ravi. They were a part of his diet. Ravi's father played a huge role in his life. If it wasn't for him, Ravi wouldn't have reached where he is today. His father's sacrifices and relentless effort were paid off as Ravi stood on the podium at Tokyo Olympics.
Wrestling career
Dahiya started wrestling in his early teens and won the silver medal in the 2015 Junior World Wrestling Championships. In 2017, he picked up an injury that kept him out of action for more than a year. Due to this, he lost his sponsors and depended on his well-wishers to recover from the injury.
In his comeback year, he won the silver medal at the 2018 World U23 Wrestling Championship. Dahiya remained unbeaten at the 2019 Pro Wrestling League, representing the title-winning team, Haryana Hammers. He ranked fifth at the 2019 Asian Wrestling Championships, after losing the bronze medal match. But, he did not lose hope and worked hard to represent India at the 2020 Tokyo Olympics.
In the 2019 World Championships, Dahiya defeated the European champion and the 2017 world champion in the quarterfinal. This earned him one of the six available quota places for the 2020 Olympics. He won the bronze medal at the Championship. In October 2019, the Ministry of Youth Affairs and Sports included Dahiya in the Target Olympic Podium Scheme.
The World Championships and Olympics
Dahiya bagged gold at the 2020 Asian Wrestling Championships in New Delhi. He also won gold at the 2021 Asian Wrestling Championships in Almaty. At the 2020 Summer Olympics, Dahiya won the silver medal as he was defeated 4–7 on points by ROC wrestler Zaur Uguev. Dahiya became the second Indian wrestler to win an Olympic silver after Sushil Kumar.
His talent took him places and helped him make a name for himself in the world of wrestling. He also repaid the support shown by his father who worked in rented paddy fields and coach Satpal Singh. Dahiya brought a lot of fame and glory to his small village. But more so, he has brought home a second silver medal for the country from Tokyo 2020. This is just the beginning and he will surely win more medals at the 2024 Paris Olympics. The 23-year-old wrestler from a small village in Haryana worked hard to succeed and reach his goals.
Also read: Haldiram's | The success story of the multi-billion dollar company
What medal did Ravi Kumar Dahiya win at the Tokyo Olympics?
Silver medal in wrestling