Shradha Sharma |  A famous Influencers on LinkedIn and Entrepreneur of an India
Shradha Sharma 3rd the most influencer in India on LinkedIn and the founder of YourStory – untold stories of entrepreneurship in India. The one who determined to work on her dream and brought many unheard stories of Indian start-ups and shared them with the world. Showed the world every success is not the path of easy travel and getting support.
Shradha Sharma Early career life
Shradha Sharma was born on 6th July 1980 in Bihar but bought up in Patna. She grew up in a packed family of 3 sisters and a brother, her father served as a merchant in the Navy, and her mother is a homemaker. She is now an inspiration to many women putting up startup ideas.
Shradha completed schooling in local and further education in history from St. Stephen's College, Delhi, did her graduation and master's, then certified with MBA from Maryland Institute College of Art.
Professional life
She started YourStory in 2008. Before that, she worked in different top news channels to earn experience. So initially started as Brand Advisor from January 2006 to June 2007 at The Times of India. Furthermore, from June 2007 to July 2009, she worked as Assistance Vice President at CNBC TV18.
After working for long years, she found her passion in writing, and also she noticed that there were many famous entrepreneurs around her, but they were going unnoticed. So she started to write blogs on those people to show to the world. But, her blogs turned into websites people began to react.
But lacking the business strategies, she was being turned down in some interviews. Finally, the time changed. She stood up against all those downs, and now she is a famous entrepreneur.
 YourStory success
YourStory tells us all those untold stories of many entrepreneurs' struggles and success and shows us the road to our goal. 
And is a leading media platform that describes many stories of all Entrepreneurs and Startups, with flagship properties – YourStory.com, SocialStory, and HerStory. So now it has around 70000 levels with 19 employees publishing in 12 different languages and has reached its heights. 
Successive growth came from 2015-to 2017. A 2lakh seed capital has also increased by the bagged investment from Ratan Tata and the University of California, Berkeley, Kalaari Capital, Qualcomm Ventures, 3one4 Capital, and TV Mohandas Pai. Around two rounds of investment raised 8.2$ million, with 200 million people. YourStory attracts 12.5 to 15 million page views and 6 million unique visitors a month. It's now a journey from semi- cult to professional means to build herself as an effective team leader.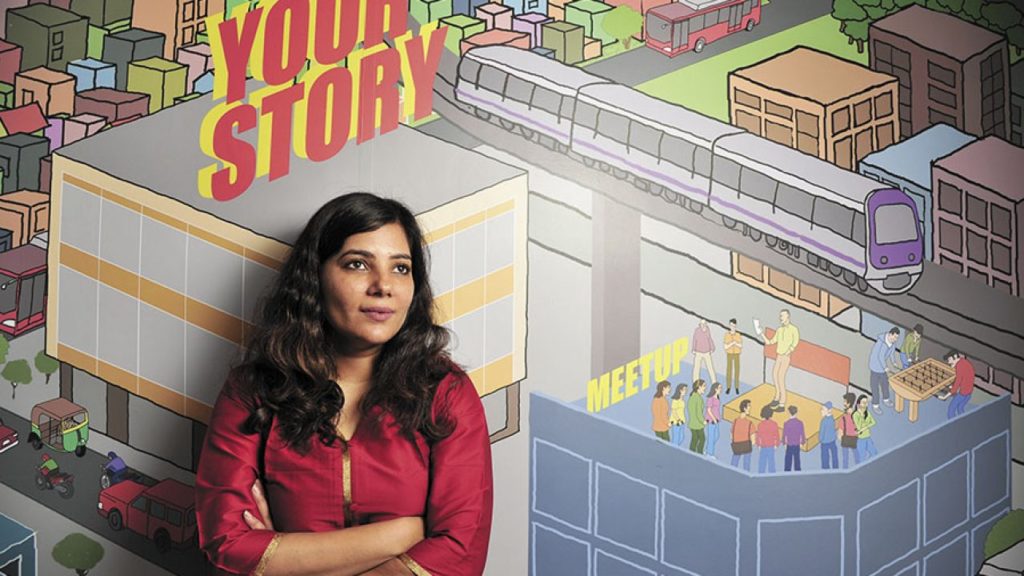 Awards
| | |
| --- | --- |
| NASSCOM Ecosystem Evangelist Award  | September 2010 |
| Vilgro Journalist of the Year Award  | September 2010 |
|  L'Oreal Paris Femina Online Influence Award  | January 2015 |
| ET promising entrepreneurs of India Award | December 2015 |
| PAT Memorial Outstanding Alumnus Award | 2016 |
| LinkedIn's most viewed CEOs under Internet Category | 2016 |
|  Fortune 40 under 40 | February 2016 |
| 500 LinkedIn influencers across the world | 2015 |
Inspirational thoughts of Shradha Sharma
Sharma is busy with her schedule and travels. She believes in self-care and taking her time to relax and take care of her family. Yes, she was married to Gaurav during her university study. Her favorite quote is, "Come what may, get up, get ready and get moving to win the moments. And, yes, do it despite what comes your way".
She loves walking, which refreshes her mind and provides excellent ideas. She correlates with business as it depends on understanding a city's start-up culture and its entrepreneurs, the insights walking provides both personally and professionally. 
Also Read: Adele | Success Story of one of Britain's Greatest Singer
YourStory website is about ?
"YourStory is India's biggest and definitive platform for startups and entrepreneurs related stories, resources, research reports, and analyses of the startup.
What is Shradha Sharma net worth?
 The estimated monthly net income of YourStory is $4000 and its net worth estimates to be $678K