P.T. Usha | Success story of the "Queen of track and field"
P.T. Usha or Pilavullakandi Thekkeparambil Usha, is an Indian athlete. She is also called the "Queen of Indian track and field." A sporting legend, she inspired thousands of Indian women to take up sports as their career. Hailing from a small village in Kerela, PT Usha's success story is inspiring to women worldwide.
Early life
P.T. Usha was born in a small village called Payyoli, Kerala. Due to her family's poor conditions, she could not enjoy the early years of her life. From an early age, Usha was interested in athletics and participated in various competitions. Although the family could not make ends meet, Usha's passion for athletics and sports helped her reach new heights. At a school race, she effortlessly beat the school champion, three years her senior. Often, She is called the "Payyoli Express" and "Golden Girl." She studied at Providence Women's College, Kozhikode. Usha also got married in 1991 to Inspector V. Srinivasan.
Her career in athletics
In 1976, the Kerala Government awarded P.T. Usha an Rs. 250 scholarship. The money helped her represent her district after the government started a sports school only for women. During a prize distribution ceremony in 1977, OM Nambiar notched PT Usha. In an interview, he said he was impressed by "Usha's lean shape and fast walking style." He knew she could become an excellent sprinter. The same year, Usha began to coach under him. Under his coaching, she won various medals in athletic meets. In 1978, Usha won six awards at the inter-state meet for juniors. During the Kerala State college meet, she won 14 medals. At the meet, she went on to win multiple medals at the National Games in 1979. At the 1980 National inter-state meet, she set various meet records.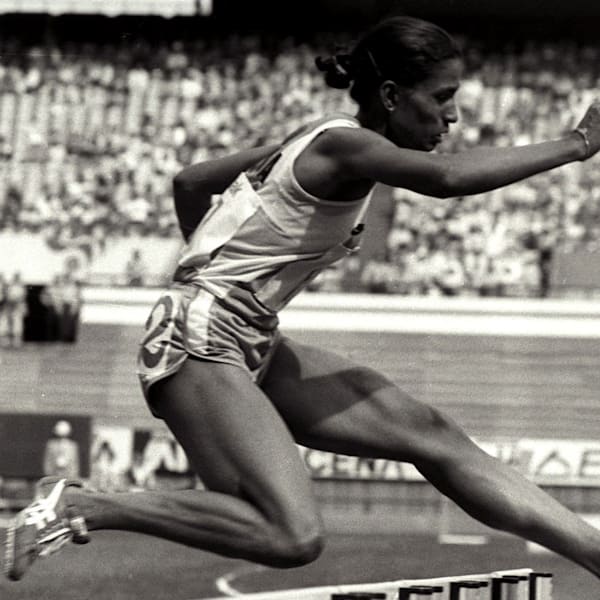 Usha's best moment in her career came during the 1984 Los Angeles Olympics. She entered on the back of a string of good performances at the year's New Delhi inter-state meet and Mumbai Open National Championships. At the Olympics trials in Delhi, she beat the Asian Champion to qualify for the Games. During the pre-Olympics practice, she won the top American sprinter Judi Brown. At the Games, she set a new Commonwealth record of 55.54 s and entered the finals. However, she came fourth in the finals, failing to win the bronze medal by 1/100th of a second. The incident happened after one of her competitors had a false start, which "broke her rhythm." However, she did not lose hope and won more medals.
In the later stage of her career
In the 1985 Jakarta Asian Championships, Usha won a total of six medals — five gold and one bronze. She set a record for most gold medals won at a single event in the history of the championships. With her first two wins, Usha equaled the Asian record of Chi Cheng of Taiwan. After that, she improved her personal best in 400 m a week later at the 1985 Canberra World Cup. At the 1986 Asian Games, she won four gold medals. British athletics coach Jim Alford at the Games said, "Usha is a first-class athlete, a tough competitor, and a terrific runner to watch. She has all the potential. Given careful guidance, she can be world-class."
Lessons we can learn from PT Usha's story
Currently, she is committee head of the Indian Talent organization, which conducts the National Level Indian Talent Olympiad examinations in schools across India. The Indian government awarded her the Padma Shri in 1985. P.T. Usha's career as a sportsperson and her moments of glory are etched in the hearts of many people. P. T. Usha continues to be an inspiration for women athletes all around the world. She overcame her life's challenges and hurdled with passion and hard work. Be it financial difficulties, inadequate facilities, or health problems, she faced them with immense confidence and emerged at the top. In conclusion, we must believe in ourselves and work hard towards our dreams.
Awards and Honours
Apart from being awarded the Padma Shri in 1985, PT Usha also has achieved the Honorary Doctorate (D.Litt and D.Sc) from Kannur University in 2000, IIT Kanpur in 2017, and the University of Calicut in 3018. She also received the IAAF Veteran Pin in the year 2019.
Recent Update:
In July 2022, P.T. Usha became a member of Rajya Sabha, the upper house of the bicameral Parliament of India. P.T. Usha, Veerendra Heggade, and  Ilaiyaraaja Vijayendra Prasad were nominated to be a part of the Rajya Sabha on the 6th of July 2022. She gave her maiden speech in the Rajya Sabha in August. On occasion, P.T. Usha talked about the hurdles she came across while dreaming of becoming an athlete. She mentioned India's former Prime Minister late Indira Priyadarshiniji and how elated she felt after meeting her. P.T. Usha also talked about her athletic career until 2000 and the dedication she holds for the betterment of India's athletes and sports dreams. She also met India's honorable Prime Minister Shri Narendra Modiji in Parliament and expressed gratitude for the rare privilege.
Also read: Michael Phelps | The success story of the greatest Olympian of all time
Where was P.T. Usha born?
P.T. Usha was born in a small village called Payyoli, Kerala.
How old is P.T. Usha now?
What record does P.T. Usha still hold?
She is the female record-holder for winning the most golds at a single international track meet.