ZAKIR KHAN —A SUCCESSFUL FAILURE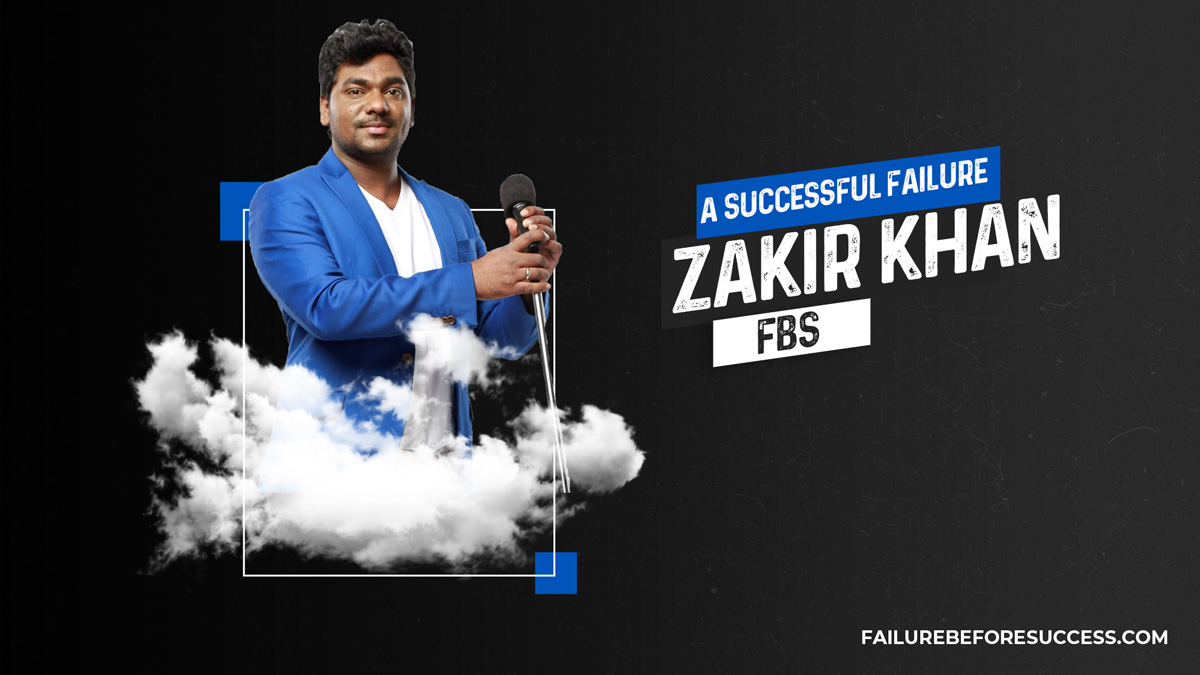 A journey that did not reach its original destination, but the failures lead to the bigger stage. This journey is what defines Zakir Khan. India's most loved comedian and the man we treat as our own.
The question of how Zakirism (his very own style of representation of various topics like comedy, writings, songs, and acting) is such a huge hit, and how he has made millions of people to wait eagerly for his next video on youtube lies in his past.
The story of Zakir Khan will inspire every young mind to fulfill their dreams. Like many achievers about whom we have written in our blogs, he is another example of never giving up on yourself.
The Beginner's Luck…
Before hitting the ott platforms with hits like "Haq Se Single" and "Kaksha Gyarvi," even before becoming the "Sakht Launda" of our generation, there was the guy who suffered, who struggled and embraced the pain that life offered him.
Zakir Khan comes from a middle-class family from Indore, Madhya Pradesh, India. His father is a music teacher, and his mother is a homemaker. He is a drop out of college but has a diploma in Sitar. He was pursuing B.Com, and that time he decided he wants to be a radio producer. With that plan in mind, he went to Delhi and joined a radio institute. After that, he did an internship for six months in Jaipur, returned his home, and a promise of getting a job.
It was a good going for him, and why would it be not? He was not on the same page with his parents about leaving graduation, and he proved them wrong.
ZAKIR KHAN's Way…
But, it was merely the beginning of what fate had before him. The days passed by and soon the months. There was no appointment letter, not even a call. He realized there was no job for him, like millions of others in our society.
He had the option of becoming a music teacher, but as it's said, there comes a time when you have two choices: an easy way and the right way.
Zakir chose the second one, hustle. He went to Delhi. Again.
"If I am unemployed, then I will prefer to be unemployed in a big city."

Zakir khan

With 1500 bucks, he came to the city, which had rejected him before also.
No plan, no backup, no security every moment in his life was a fight. He was broke, and nothing went his way. There were times when he thought of quitting, but the warrior inside him kept pushing. He used to poems; this time, they were not just words. The poetry and the quotes were his emotions that he was not able to convey. They gave him strength—the strength to fight, to endure, and move forward.
"की अपने आप के भी पीछे खड़ा हु मैं
ज़िंदगी कितना धीरे चला हु मैं
और मुझे जगाने जो और भी हसीं होक आते थे
उन ख्वाबो को सच समझ के सोया रहा हु मैं
ज़िंदगी कितना धीरे चला हु मै!"

Zakir Khan
A Ray Of Hope…
After three years of hardships and doing odd jobs, he got a job in a radio station where his job was to write for advertisements. It was the next phase of his life.
It was the learning stage; he was trying to fit in and dig deep into the work culture. But job satisfaction was not there. Then a suggestion from a friend – to try open mics and stand-up shows. And he did. Slowly but he was getting attention, and he was doing acts with full houses in no time.
In all his efforts of keeping his job and open mics intact, he was in a committed relationship. Things were not great, but he was in a happy space in his life. And then his relationship falls apart. He was at his lowest. The whole moving on was very tough on him. At one point, he was thinking about ending his life. But he was not going to give up that easily.
"If you will die you won't be able to feel even if millions love you,
but if you live and no one loves you, you can still feel that you love yourself."

Zakir Khan
Hard Work Pays Off…
He decided to leave Delhi and also the job. Now, it was time to make some crucial decisions about his life. He left for Mumbai—the city of dreams. He knew content creators in Mumbai, and soon he met creators of AIB(All India Bakchod, a comedy company) Tanmay Bhatt and Gursimran Khamba. He collaborated with them and wrote scripts for On Air with AIB. It was the perfect opportunity for him as they were looking for Hindi content writer and a stand-up comedian, and Zakir Khan was the one who was getting rejected and sidelined because he used to write and perform in Hindi.
And then the AIB Diwas happened, he was one of the performers that night. It was an ultimate hit for AIB and the most significant moment in his life. He was going viral across the internet, and from that day, he never looked back. Even after five years of AIB Diwas, Zakir's video gathers views across all platforms by masses. He runs his youtube channel Zakir Khan and has millions of subscribers. Besides his presence in youtube and ott platforms, he performs live shows worldwide, and his fans are always excited to see him entertain.
This blog is for those who feel like a failure but remember this, you are not alone who feels like this. Every one of us struggles and we all find ourselves as a failure but in reality, no one is a failure. Hope it helps.