Zalando | Success of Multi-brand online shopping to its own brand
The times have gone where people used to wait for long delivery of the International products. Neither do they have to travel to get things from their respective places? Trade has moved from the offline world to e-commerce, and people are following these companies. Hence there are many more eCommerce companies whose net worth is measured in billions. Zalando is one of such world-famous companies, evolving from a fashion retailer to an online platform. See the journey towards building the empire of e-commerce.
Start of the Zalando
It all started from a shared apartment on Berlin's Torstraße. When buying shoes went wrong with reply hence started a thought of setting up a business. Two university friends, Robert Gentz and David Schneider, founded the Zalando in 2008. It went on for about two years. Further, another friend named Rubin Ritter joined as management board.
Initially started as a footwear business, they used to get an order on their cellphones. And they carried the packages to the post office themselves by offering free delivery and up to 100-day right of return. Customers were impressed, and the feedback came positive soon. The business expanded in need of many employees and space.
Forward journey
In 2010-11 it opened a portal of international services with a successful launch in Austria and Switzerland. The Netherlands became the first non-German-speaking market. It also opened online retail sites for UK and Italy.
With the inspiration of adverse technology, East Zalando turned into a digital platform. Since 2013, it has allowed fashion houses and retailers to make sales via the Partner Program. Zalando was listed on the Frankfurt Stock Exchange, MDMX, and collaborated with Topshop in consecutive years of 2014. Hence at the same Zalando managed to become profitable for the first time. With working the fulfillment and marketing costs, both taking up 50% of total revenues alone without the costs of sales included.
Founder's details
Robert Gentz – He is a Co-CEO & Co-Founder of the e-commerce company Zalando. He previously worked at Unibicate as a CEO. Robert Gentz attended WHU – Otto Beisheim School of Management. He was mainly responsible for the company's strategy.
David Schneider – The Co-Founder and Co-CEO of Zalando SE. He previously worked at Gondrand International AG as a Key-Account-Manager. David Schneider attended WHU – Otto-Beisheim School of Management. He made seven investments. Their latest investment was Seed Round – Valyria on Jul 1, 2021, when Valyria raised €4.8M.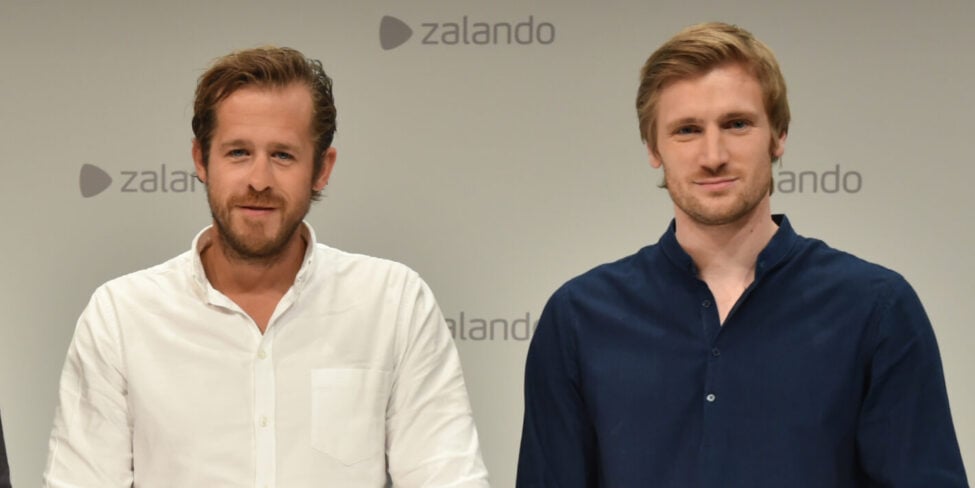 Fashion Trade
To attract the border audiences and increase the traffic of online shopping Zalando started the fashion trade fair "Bread & Butter. " To expand its fashion in sports, it acquired Kickz, a German basketball footwear company, in 2017. The following year, regularly changing beauty products stores in Germany, Poland, and Austria were launched.
The company operates in more than 20+ countries such as Luxembourg, the Czech Republic, Slovakia, Croatia, the United Kingdom, Lithuania, Latvia, Estonia, Hungary, Romania, etc.
Zalando Stratergy
It operates in 25 marketplaces not just because of convenient delivery options and services. It's the innovative technology that attracted more than 3000 tech experts. And customers are provided with more than 20 local payment options. Collaborates with different regional logistics service providers and includes 19 languages.
Zalando wins European E-commerce Award. It also rewards the "Zalando Sustainability Award" in partnership with Copenhagen Fashion Week.
Inspiration
Giving importance to customer value company has faced many risks and applied diverse strategies to reach its present position. Efficient work and dedication helped the growing basement of a shared apartment business now includes a network of twelve fulfillment centers in Europe.
What is Zalando's net worth?
Zalando net worth Sep, 2022 Zalando net worth 256 Million Millions of dollars
Who is the CEO of the Zalando?
David Schneider and Robert Gentz, Co-CEOs of Zalando.