Zerund | The success story of this innovative brick manufacturing company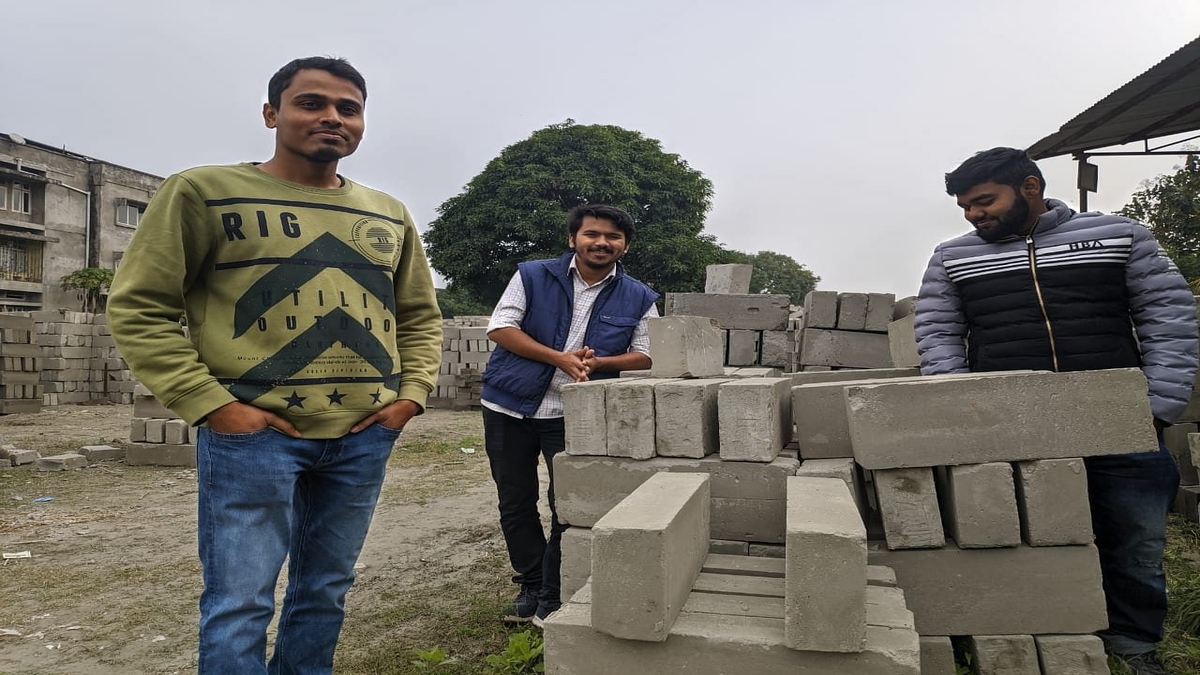 Zerund Bricks is a Guwahati-based startup that manufactures and sells environmental friendly bricks. Rupam Choudhury, Mousum Talukdar and David Pratim Gogoi started the company in 2018. The founders have developed a plastic lightweight brick using waste from thermal plants, cement, and more. The brick comprises about 70% of waste material from power plants and other sources. The startup delivers bricks to over 1000 clients and has sold 1.1 crores worth of bricks in only one and a half years. What started as a final year project in college has become a recognized startup. Zerund is trying to change the building material industry by innovating green materials. Here's Zerund's success story.
How and why was Zerund started?
Three students received their final year project During the seventh semester of engineering college. They had to work on something that involved environmental-friendly materials. Keeping in mind the financial aspect of the project, the trio wanted to make something financially viable. Eventually, the project went on to become their business. Initially, they faced several challenges and failures. In the beginning, the founders did not have enough capital to manufacture the bricks in bulk. Thankfully, two angel investors helped them and provided funding. Secondly, they wanted to ensure that the bricks provided more value for money when compared to other products.
They also ensured that the bricks were lightweight compared to others. In addition, they also had to conduct a lot of trials to get the final product by correctly mixing the plastic. After trial and error, they came up with the final product in July 2018. The startup recycles almost 100 kgs of plastic every day. They wanted to create a product that helps the environment and makes an impact. Today, Zerund bricks are used to build apartments, commercial complexes, and government organisations in Assam, Arunachal Pradesh, Meghalaya, and Nagaland. The manufacturing facility is located in Pathsala, Assam.
Zerund's mission
Zerund aims to provide cost-effective and environmental-friendly bricks. Ash from plastic waste, thermal power plants, cement, and other sources are used to manufacture the bricks. The brick comprises about 70% waste material and fly ash. In addition, Zerund also uses electric machines instead of kilns which helps reduce carbon emission. The bricks weigh 10% lighter than normal bricks and about six normal bricks make up one Zerund brick. Zerund aims to make a change in a world where pollution and other aspects are severely affecting the climate. Several apartment complexes in Assam, Arunachal Pradesh, Nagaland, and Meghalaya use their bricks.
Zerund's success story
Today, Zerund has catered to over 1000 clients and have sold 1.1 crores worth of bricks. The startup is the future of the green building material industry. What started as a college project has become a full-fledged business. During the initial stages, the founders faced several challenges but they never gave up and worked hard to create the perfect product. Their success story is very inspiring. It teaches us that hard work is the key to success. Hard work teaches us dedication, perseverance, and determination. Secondly, always learn from your mistakes and keep believing in yourself. Finally, never give up on your dreams.
Also read: Madan Gowri | The success story of this Tamil YouTuber
When was Zerund founded?
Rupam Choudhury, Mousum Talukdar and David Pratim Gogoi founded Zerund in 2018.