Channing Tatum | Success Story of the Talented Actor & Producer
Channing Tatum is an American actor and producer. Born in Alabama, USA, Tatum is considered one of the most successful stars at the box office. He gained massive popularity after starring in the American military sci-fi movie G.I. Joe: The Rise of Cobra. Channing has been a part of the entertainment industry for over two decades. In his career, he has acted in memorable movies like The Vow, 21 Jump Street, Magic Mike, Dear John, and the Step Up series. In 2022, he made his directorial debut with "Dog" and garnered critical and commercial acclaim.
About
Channing Tatum is one of the most prominent actors in the United States. He began his acting career at 25 with Thomas Carter's sports drama film Coach Carter alongside legendary actor Samuel L. Jackson. Time has included Tatum in its 100 most influential people in the world list. His illustrious career has garnered him worldwide recognition. Hollywood considers Tatum an A-list star for his exemplary acting and dancing skills. Throughout his career, he has won several accolades for his outstanding performances. Top brands like Pepsi, Emporio Armani, Gap, and American Eagle have signed Channing as their ambassador.
Early Life
On the 26th of April 1980, Channing Matthew Tatum was born in Cullman, Alabama, USA. His father, Glenn Tatum, was a construction worker. In contrast, his mother, Kay Tatum, was in the airlines. Channing's parents come of English descent. When he turned six, his family moved to Pascagoula, Mississippi. Channing spent his childhood near the rural areas of the Pascagoula river. He has an older sister named Paige. During his initial years in school, he could not read or write well. Later, young Channing was diagnosed with attention deficit disorder and dyslexia. By the time he reached the eighth grade, doctors had started giving him heavy medications to tackle the diseases. After taking the medicines, Channing could perform well at school. However, he started feeling depressed and underwent an identity crisis.
Channing's childhood was not easygoing. His parents were often busy with work. Over time, Channing became suicidal. He continued taking medications upon the doctor's advice. Later, Channing and his sister moved to Tampa, Florida. Upon moving, Channing learned a form of martial arts. It helped him recover from depression. For schooling, he attended Gaither High School in Florida. Later, he joined Tampa Catholic High School. During his schooling years, Channing was one of the most athletic players in his class. He was involved in several team sports like football, baseball, and track. By the time he reached senior year, he was fed up with the medicines and decided to stop consuming them. Simultaneously, he learned how to do break dance. Within a few days, he mastered head spins and impressed many girls with his charm.
Beginning of Career
After completing school, Channing received a football scholarship. Through the scholarship, he attended Glenville State College in West Virginia. However, within a year, Channing dropped out of college and returned to his hometown. Upon returning, he did not know what to do. Consequently, he took up several odd jobs. Channing worked as a mortgage broker, record-store clerk, perfume spritzer, house framer, and telemarketer. The odd jobs continued until Channing saw an advertisement for a nightclub seeking male dancers. Later, he started working as a stripper in Tampa's nightclub. After working as a stripper for some time, Channing moved to Miami. Not much later, a model scout spotted him and asked him to audition for music videos and commercials. In 2000, he landed his first professional dancing project. He appeared as a dancer in Ricky Martin's She Bangs music video.
Initial Years
Channing received $400 for his dancing part in Ricky Martin's song. Later, he began his modeling career with renowned brands like Abercrombie & Fitch and Armani. Gradually, Tatum started gaining recognition as a model. In 2002, he landed an opportunity to act in one of the most prominent beverage brands in the world, Pepsi and Mountain Dew. There was no looking back for Channing after entering the entertainment industry. Within a few years of joining, he grabbed ad campaigns for multi-billion dollar groups like D&G, Emporio Armani, and American Eagle. In 2005, Channing made his big screen debut with Coach Carter. In the same year, he appeared in movies like Havoc and Supercross. However, it was in 2006 when he started gaining recognition as an actor with Andy Fickman's She's the Man.
Following Years & Worldwide Recognition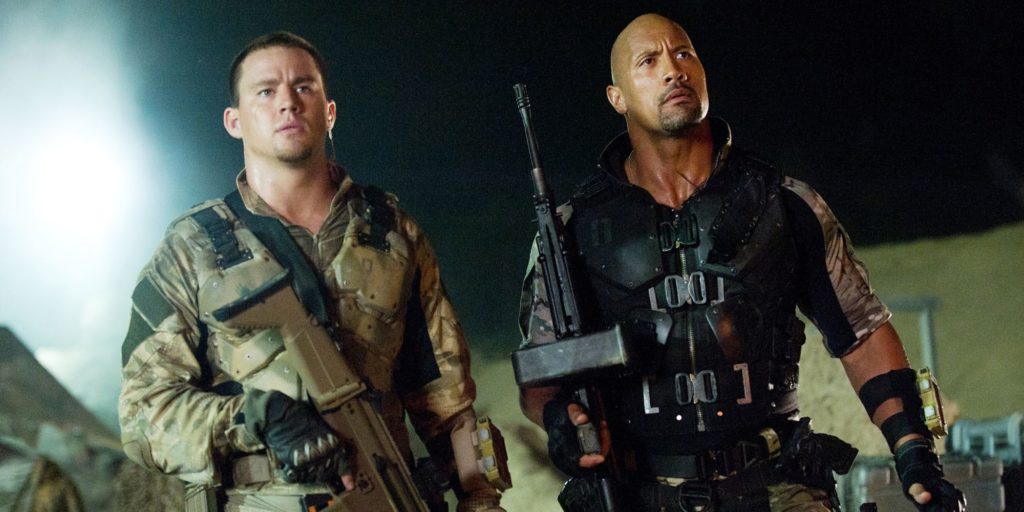 After the moderate success of She's the Man, Channing starred as the lead character in Anne Fletcher's Step Up. He gained considerable fame with the movie and garnered several movie roles. In 2006, he appeared in the critically acclaimed A Guide to Recognizing Your Saints and became a naturalistic actor. Later, Channing was cast in several moderately successful movies. In 2009, he starred in G.I. Joe: The Rise of Cobra and gained worldwide recognition. 2012 was one of the most prominent years of Channing's career. He appeared in three blockbuster movies: The Vow, 21 Jump Street, and Magic Mike. With these films, he established himself as one of the most bankable stars in Hollywood. After 2017, Channing took a break from acting. However, he returned to the big screen with big-budgeted movies like The Lost City and Bullet Train alongside Brad Pitt and Sandra Bullock. 
Also read: Chris Pratt | Success Story of the Talented Actor
How old is Channing Tatum?
Channing Tatum is 42 years old as of 2022. He was born on the 26th of April in Alabama, USA. He has an older sister named Paige. Tatum spent most of his childhood in Tampa, Florida.
What is the net worth of Channing Tatum?
Channing Tatum's net worth is estimated to be $80 million. He began modeling at the age of 20. Channing's acting career started in 2005 with Samuel L. Jackson in Coach Carter.
Why did Channing take a break from acting?
Channing Tatum took a break from acting to focus on his directing career. He took a four-year hiatus and returned to the big screen in 2022 with Dog.