Dream11 | Success Story of a Fantasy Gaming App
Dream11 is India's first fantasy gaming company to become Unicorn. It is a name on the tip of every gaming lover. Dream11's app allows players to make their team, participate in fantasy gaming and make cash out of it. Founded in 2008, the organization is still on its way to accomplishing more in the field of fantasy gaming. Under Dream Sports, the company has a total valuation of $8 billion, and net revenue of $359.03 million. Till now, it has collected total funding of $1.62 billion. Let's see how this Mumbai-based startup turned out to be a huge success.
About Dream11
Dream11 is a sports fantasy gaming-based company that earns its revenue by charging participation fees and commission on price money. This fantasy gaming firm is owned by a sports technology company 'Dream Sports'. Other common names and their portfolios are FanCode, DreamX, DreamSetGo, and Dream Pay. The actions of Dream sports reflect their deep-rooted vision to make sports better.
What is Fantasy Gaming?
In Fantasy gaming, players participate in their favorite game by making their own customized team. They won monetary rewards based on the performance of players chosen by them. The performance of the players is converted into points, these points are considered to evaluate results.
Dream11 Starting
Harsh had always aimed to work in the fantasy gaming sector. So just after finishing college, he started working towards it with his college classmate Bhavit Sheth. But their real journey began in 2012 with the launch of the first premium service of Dream 11. Since then, the founders had always kept their arms open for new investors.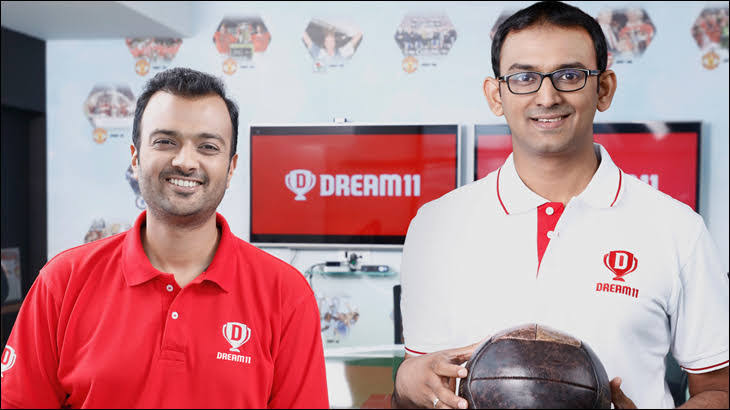 But, like every other startup, dream11 also had its fair share of challenges too. First of all, fantasy gaming is often confused with gambling in India. So, it was a hard nut to crack for the company to get legal permission for their startup. At last, legal permission was obtained because fantasy gaming requires knowledge and skill of the game and it doesn't depend on the probability factor-like gambling.
Other difficulties were Creating a brand image, finding a business market, appropriate office location, and planning & implementing suitable technologies. But after overcoming all these obstacles, Dream11 successfully made fantasy gaming a part of the daily life of every sports lover.
Investments and Fundings
These are some of the funding and investment details available in the public eye, as listed below.
| | | |
| --- | --- | --- |
| Year | Investors | Amount |
| 2018 | Tencent Holdings | $100million |
| 2020 | Steadview Capital | $60million |
| 2020 | Chrys Capital, Footpath Ventures, Tiger Global Management, TPG | $225million |
| 2021 | D1 Capital Partners, Falcon Edge Capital, TCV | $400million |
| 2021 | Falcon Edge, DST Global, D1 Capital, Tiger Global | $840million |
Dream11's Success
Although there are many factors contributing to the booming Dream11 company, one of the key factors is advertising. You must have seen the popular ad for Dream 11- 'Yeh main kar Leta Hun, Aap dream11 pe team bnao'. IPL has made dream11 popular indeed. Well, this ad is just a glimpse, other series of marketing campaign by Dream 11 are listed below-
In 2017, formed an alliance with three cricket, football and basketball League. Hence, Dream11 tagged itself as the official fantasy partner of the Hero Caribbean Premier League, Hero Indian super league, and the national basketball association of the United State of America (NBA). Later it changed to the official fantasy football partner of the Indian super league. Subsequently, in 2017, Dream11 launched an official NBA fantasy basketball game on their website.
In 2018 dream11 collaborated with International Cricket Council (ICC), The Pro Kabaddi League (PKL), The international hockey Federation (FIH), the world basketball League (WBBL), and the British basketball League (BBL). By virtue of which dream11 released two new games Kabaddi and hockey the same here.
In October 2019 dream11 became the title sponsor of Super Smash domestic T20 tournament cricket by Newzealand cricket for6 years.
Dream11 emerged as official partner of Indian Premier League CID in August 2020 after a funding of 2.2 to billion dollars.
IPL 2021 dream11 promoted six new campaigns with the tagline 'Team has to maja hai' which celebrated the fandom of cricket and dream11.
Recently dream11 have recruited the Tiktoker Khaby Lame for the promotion of their brand for Rs. two crore. Khaby Lame has released first advertisement video with the tagline 'Dream11 per dimag laga na'.
About Founders
Dream11 was founded by two-sport enthusiast entrepreneurs, Harsh Jain and Bhavit Sheth. Currently, Harsh is the CEO and co-founder of Dream11 and Bhavit is the COO and co-founder of Dream11.
Also read-Spotify | Success Story of India's most popular music platform
When was Dream11 founded?
In 2008, it came into existence.
How many emloyees does Dream11 have?
As of August 2020, it has 542 employees.