Spotify | Success Story of India's most popular music platform
Spotify is an international music streaming platform that provides you with songs shortlisted in relevant genres. It all started in 2006 and today the app has taken over most Indians' phones. Be it music or podcasts, Spotify is the go-to place for most. Founded by Daniel Ek and Martin Lorentzen, today, the company has a valuation of $72 billion, revenue of $2.78 billion, and total funding of $2.1 billion. Owing to this data, the company has become the largest music streaming service provider in the world. Let's see the story behind the exceptional success of Spotify.
About Spotify
Daniel Ek and Martin Lorentzen started Spotify in 2006. With its headquarter in Stockholm, Sweden, it provides music streaming services across the world. It has a bouquet of 17 million songs from across the world hence it is one of the most diversified platforms. Spotify provides the option of both online and offline streaming. Online streaming is for everyone while offline streaming post download is available only for premium users.
Beginning of Spotify
The launch of Spotify was to deal with some major problems in the music industry. As the Cases of music piracy were in abundance in 2006. To solve this problem, Daniel and Martin came up with Spotify. Before its establishment, music streaming services were not that popular. Hence, pirated music was in abundance. But, Spotify has made the upload and monetization of authentic music handy for every individual. Initially, the idea was about music streaming but later they turned toward other forms of audio content too, namely, podcasts and videos, and charts. Spotify is a familiar name among us, but what made makers choose this name is an interesting story.
Many find the name the company very fetching but the back story behind the discovery of this name is more captivating. While trying to figure out the best names, both founders were yelling out random names back and forth. Martin was shouting 'spot identify' and meanwhile Daniel misheard it as "Spotify". Although Spotify was born this way, to avoid uneasiness in the initial days, the founders keep distance from this story in public.
The makers knew the Potential of the audio streaming platform hence they have not made its structure rigorous. Spotify is designed in such a way that it can include many new categories and expand into new sectors of audio content. Subsequently, Spotify has acquired two major podcast companies recently namely Joe Morgan and Bill Simmons. Such steps made Spotify stand in the crowd.
Spotify Success
The owners have worked a day in and day out to make Spotify a huge success. There are many factors contributing to the success of Spotify as easy interface, simple pricing, customized experience, flexibility in services, and a range of support devices. The interface of the app is so apt that it keeps the first-time user hooked to the app. The app contains billions of playlists. Once you start a song, you can go to its playlist to choose a similar song that suits your mood. The pricing package is kept basic so that the public can easily understand it.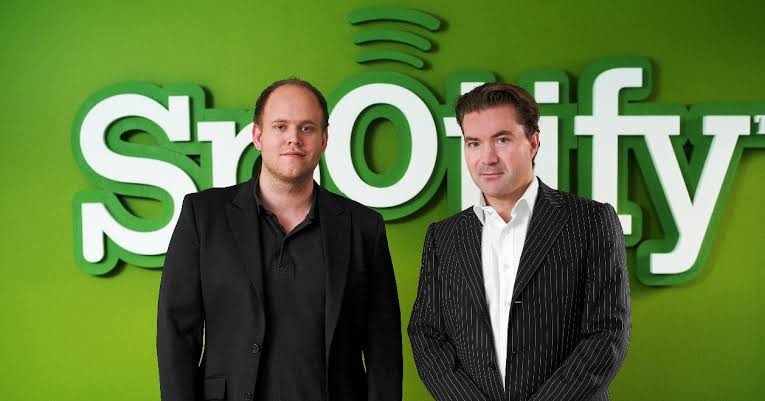 It contains two types of packages family a free and a premium one. In the free version, you can play lots of songs and enjoy other services but it contains ads. A way of monetization for the company.
In the premium package, you have to pay for a subscription and you can listen to songs ad-free. Premium packages also contain the family package in case you want to opt subscription for the whole family.
Artificial intelligence is used very wisely in the app. Once you start listening to a particular type of song the app itself creates and suggest a playlist and an album for you. It also contains albums for different moods, time zones, and different languages. In short, the songs are well organized in the playlist. Services offered by Spotify is not limited to music content but also includes other forms of audio content such as audio-video and podcast. You can play songs over a range of devices such as desktops, speakers, phones, PCs, etc. Spotify has designed a website solely dedicated to the range of devices it supports.
After its huge success, makers have realized its strength of music delivery, hence it is expanding to other audio content forms such as podcasts. They have laid emphasis on including podcasts. You must have seen some public figure advertising their Spotify podcast.
About the founders
Spotify was founded by two individuals. The chairman and CEO of the company, Daniel Ek, and the co-founder, Martin Lorentzon. Let's see their life story,
Daniel Ek
Daniel started entrepreneurship at 13. Initially, he used to design websites. Later, he handled a senior role at Tradera, an online E-Commerce firm. Afterward, he worked as CTO of browser-based gaming and fashion community named Advertigo. Later, he became CEO of uTorrent and served there for a little before starting Spotify.
Martin Lorentzon
Martin began his career with an internship at Telia (a multinational telephone company in Sweden). Later, He shifted to San-Francisco where he worked at Alta Vista (a search engine). Afterward, he got a job in Cell Venture (an investing company). He further started Netstrategy in 1999 which later became TradeDoubler, a chief European market place at that time. Martin came to know Daniel through TradeDoubler only, when TradeDoubler bought Daniel Ek's advertising company Advertigo in March 2006.
Also read-Cadbury | Success Story of World's Leading Chocolate Brand
When was Spotify founded?
Spotify was founded in 2006.
Net worth of Spotify?
Networth of Spotify is $18.88 billion as of june 2022.