MakeMyTrip | Untroubled journey without the hassle of transportation
Traveling with colossal luggage waiting for transport and other consolidated troubles is annoying, but no more with the MakeMyTrip online travel service. Initiated a pioneer online travel industry in India, merges travel with technology. As an online travel service company, it provides facilities like bookings related to all travel services from reserving seats on buses to flights along with staying as well. So here is the list of complete services and the whole story of the journey, which made many trips easier.
Start of MakeMyTrip
First-ever travel service company founded through the platform of the technology so-called online application MakeMyTrip was in 2000 in Gurugram, Haryana. Deep Kalra, Keyur Joshi, Rajesh Magow, and Sachin Bhatia started the service.
She initially launched in the US market Industry US-India travel service. Further, in 2005 Indian services also started with some extreme packages and hotel bookings.
Soon MakeMyTrip launched a mobile device along with the sub-website partnership involved with Luxury Tours and Travel Private Limited, ITC Group Hotel Travel Group, MyGola, and ETB Group, along with MakeMyTrip increased investment. Lately in 2016, the Chinese travel booking company Ctrip invested $180 million.
Startup start story
As seen, it started by Deep Kalra, who was a bank employee but was bored of his 9-5 job and wanted to explore stand on his firm, so he quit the job. And about three years, he worked in many firms like AMF Bowling and GE Capital in raising funds to bring them to India. It was a great fail, but he learned more about online strategies.
On some researches tourism industry and people facing the booking tickets and holiday expenses looking all those consequences, he came up with the solution in 2000 with MakeMyTrip.
Founder's details
Deep Kalra was born in Hyderabad and studied in Delhi and Ahmedabad. He completed a bachelor's degree in Economics from St. Stephen's College, Delhi, and a further MBA from IIM, Ahmedabad, in 1992.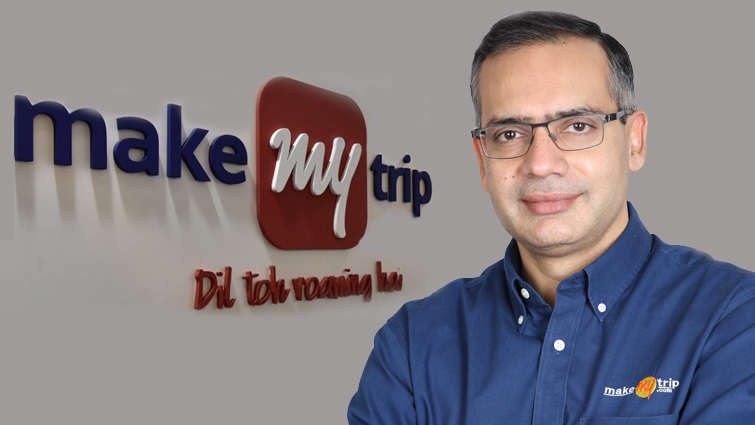 Deep Kalra guided the company as CEO from its initial stage until listed on NASDAQ in 2010. In February 2020, Deep Kalra stepped down from the post of Group CEO and resumed responsibilities as executive chairman of the MakeMyTrip board, while co-founder and current CEO Rajesh Magow took charge as the Group CEO.
Current CEO of MakeMyTrip Rajesh Magow is an alumnus of the Institute of Chartered Accountants of India. He started his professional career as the Regional Head-ACE North of Aptech Ltd. With a couple of financial services firm experiences, he became the Co-founder and CFO of MakeMyTrip. Also, he took responsibility as the company's CFO, COO, and Group CEO.
MakeMyTrip Functionalities
Its operation started with flight ticket booking and gradually expanded to travel services like hotel booking, air ticketing, alternative accommodations bookings, rail ticketing, holiday planning, and packaging. Both national and international levels and city levels provide intercity bus ticketing and ancillary travel needs. Also, includes facilitating access to visa processing and third-party travel insurance.
And also, some other features like having access to apps under one roof for payment and travel-related apps are accessible. Also, seasonal travel provides a great deal on the trip. And based on destinations along with coupons and discounts without third broker dealerships.
Awards
After such an outstanding achievement to make someone's journey wonder, shouldn't Thi journey of MakeMyTrip needs some appreciation? So it got a couple more awards, so here is the list.
Companies Inspiration
It always grows towards the part of creativity and bringing the best to the user. In creating a comfort level with ease of booking and cancelation without risk of losing money. And get the confidence in users just as their tagline "JoHogaWowHoga."
Brand ambassadors of MakeMyTrip advertisment?
Ranveer Singh and Alia Bhatt are the brand ambassadors of the MakeMyTrip company, whom the company signed in on February 17, 2016.
MakeMyTrip Business stratergy?
Helps Book, Report & Manage all Corporate Travel from One Place. Register Now. Cost-effective, smarter, and Simpler Business Trips. Also, provide a user with many great offerings