Prafull Billore | Success story of the founder of MBA Chai Wala
If you believe in yourself, you can achieve anything you want. There are no limits out here; the only limits are those you impose upon yourself. Prafull Billore, the owner of MBA Chai Wala, focused on following his dreams and achieving success. He went through his fair share of struggles and overcame them to reach where he is today. His success story is inspirational to the youth of today's generation.
His early life and struggles
Before starting his restaurant, Prafull wanted to pursue his master's degree from IIM Ahmedabad. To enter a good MBA college, you need to give CAT. CAT is one of the most challenging exams out there. To achieve his goals, Prafull studied for almost 10 hours a day. His parents encouraged him and hoped that he would clear the exams. Unfortunately, he failed three times he appeared for the CAT exam. His parents still supported him even though he failed. Prafull went through depression due to this and couldn't focus on anything.
During this period, he roamed around Ahmedabad comfort and discovered that it felt like a second home for him. He didn't know what to do next as his dream to pursue MBA from IIM shattered. Finally, I decided to work at McDonald's. Initially, he worked as housekeeping staff. Soon, he got promoted to kitchen staff, took orders, and served customers. Although he worked in a well-known brand, he always wanted to do more. Starting a business is the best way to be independent and create your own identity. He planned to start a cafe, but that could cost him considerable money. With no cash in hand, he dropped the plan.
The beginning of MBA Chai Wala
After a lot of thinking, Prafull started a roadside tea stall business. Even though this put him at risk, he wanted to follow his dreams. These types of companies are usually looked down upon by people. They are considered to be done by lower class or less educated people. But, this did not stop Prafull. The only fear Prafull had was what his father would think. Due to this, he had many sleepless nights. With a lot of courage and determination, he started his first venture as a tea staller near McDonald's. He invested only INR 8K and started his business on 25th July 2017. From 9 am to 4 pm, he worked at McDonald's, then in the evening, he worked at his tea stall.
Acquiring customers is not an easy task when you have a simple business. A tea stall can be found at almost every corner of a street. Prafull served tea in earthen pots with toast and tissue to attract people. He not only entertained customers visiting his stall but also approached the ones sitting in cars. His communication skills and the unique way of serving his food caught people's attention.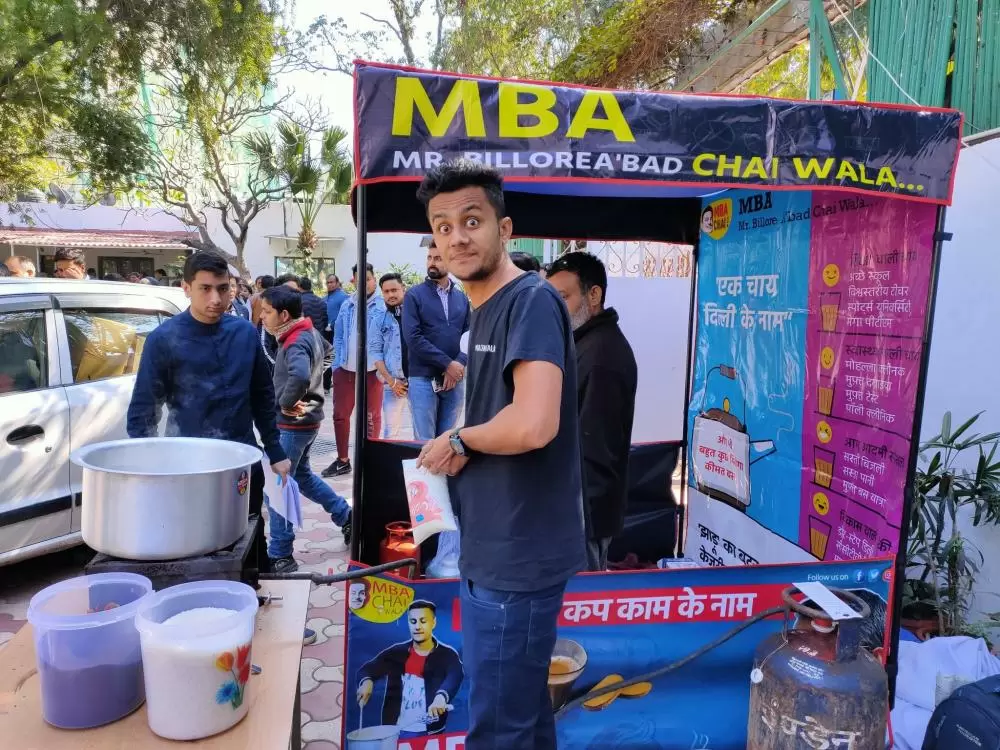 As his customers grew, the nearby tea stall vendors felt jealous of his business. They decided to form a union and threw Prafulll out of the area. Due to this, Prafull was now more confident in achieving success. He contacted a nearby hospital owner and rented space near the hospital. For INR 10K, Prafull set up his new tea stall and, once again, started his business. Here too, he attracted customers due to his unique way of serving tea. After some time, he began selling snacks and coffee.
His first restaurant
Soon, Prafull Billore started his restaurant and named it MBA Chaiwala. He said that MBA doesn't represent a Master of Business Administration but 'Mr. Billore Ahmedabad Chaiwala'. Within a few months, his business earned crores every month. Prafull Billore also has his website and manages MBA Chaiwala Facebook and Instagram page. He is well-known amongst youngsters and mainly students pursuing MBA at IIM, Ahemdabad. He has also provided services at over 200 events, including women empowerment programs, entrepreneurial events, and many more. Recently, he distributed free chai to singles on Valentine's Day. This went viral on all social media platforms, and he acquired worldwide recognition. 
In the financial year 2019-20, he recorded a turnover of Rs 3 crore. "My dream is to sell tea across the country and that every Indian drink my tea," Prafull says. He owns a 300 sq feet restaurant with over 20 employees. From Prafull's story, we learn that anything is possible as long as you're focused, determined, and you want to do it. Taking a risk to achieve something requires courage to face the fear of uncertainty. No matter the outcome, we grow through the process and become more resilient and confident.
Recent Update:
In 2022, Prafull Billore announced that MBA Chai Wala will expand to 200 cities by the end of 2022. The successful venture has already stepped into cities like Surat, Srinagar, Bhopal, Indore, and many more. Prafull aims to expand the business in the southern parts of India. MBA Chai Wala is already having over 100 outlets across the nation. Through the expansion, Prafull wants to provide employment to 500 people approximately. During an interview, he said that the company's future outlets will be established in Chennai, Bengaluru, Goa, Belgaum, Tirupati, and Vishakhapatnam. Moreover, he also expressed his views on expanding MBA Chai Wala across 4000 cities in India. Simultaneously, the brand is planning to establish a tea-leaf manufacturing business.
Also read: Ravi Kumar Dahiya | The success story of the Tokyo Olympics silver medallist
When did Prafull Billore start MBA Chai Wala?
He started his venture in 2017.
How many outlets does MBA Chai wala has?
They have over 50+ outlets.