Pepsi Co | Largest food and beverage company in the world
Pepsi Co is an American multinational food and beverage corporation. Pepsi Co's products are available in more than 200 countries. They are one of the largest in the world. It has its headquarters in Purchase, New York, United States of America.
History of Pepsi Co
Pepsi the soft drink developed by a pharmacist and businessman, Caleb Bradham he was from Duplin County, North Carolina. He gave the name 'Pepsi Cola' in marketing the drink from his pharmacy in New Bern, North Carolina. The drink gained a lot of popularity and Bradham founded the Pepsi Cola Company in 1902. The company experienced great loss and fell hard times during World War I. The financial loss was so much that Bradham has to declare bankruptcy and go back and work in pharmacies in North Carolina.
In 1923, the company's trademark and the recipe were purchased by Craven Holding Corporation. Again in 1931 Roy Megargel, purchased the Pepsi trademark with Charles Guth. Guth reformulated this recipe. He used his position as president of the company to replace Coca-Cola with Pepsi Cola at Loft's shops and restaurants.
In 1960, Pepsi expanded its product lines with the creation of diet Pepsi and mountain dew. Pepsi. Cola also merged with Frito-Lay and became Pepsi. Co. The company's headquarters were relocated to the present location of Purchase, New York in 1970.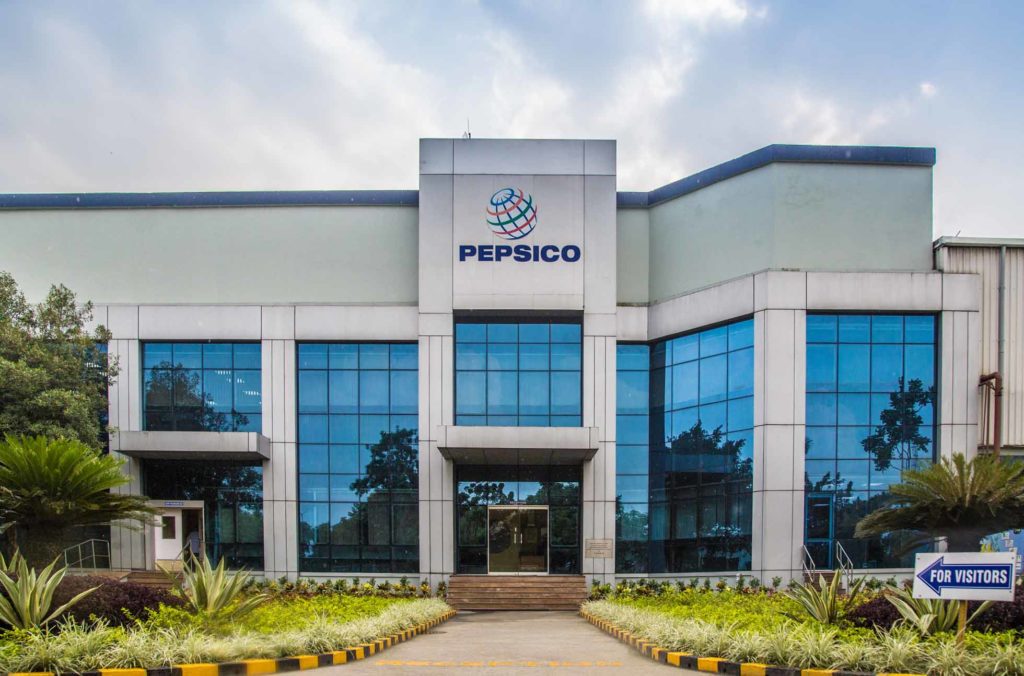 Acquisitions
From the late 1970s to the mid-1990s Pepsi Co expanded its acquisition outside food and beverages brands. Some of the brands formerly owned by Pepsi Co are Pizza Hut, Taco Bell, KFC, Wilson Sporting Goods, North American Van Lines, California Pizza Kitchen and many more. Pepsi Co expanded its operation beyond food and soft drinks. Pepsi Co also bought juice company Tropicana Products. In 2001 they also merged with Quaker Oats company along with Gatorade sports drink brands like Granola Bars and others.
In 2011 the company made its largest acquisitions by purchasing Wimm-Bill-Dann Foods, a Russian food company that produces milk products. The year 2011 it became Russia's largest food and beverage company.
2020, Pepsi Co announced that it had entered into an agreement to acquire Rockstar Energy for 3.85 billion United States Dollars.
Competitions
The Coca-Cola Company is one of the main competitors of Pepsi Co's main competitor in the market of soft drinks. In 2005 Pepsi Co surpassed the Coca-Cola Company's market value. For the first time in 12 years. The majority of Pepsi Co's revenues no longer come from the production and sale of carbonated soft drinks. In 2009 more than 60 per cent of Pepsi Co's beverage sales came from its primary non-carbonated brands, namely Gatorade and Tropicana.
One of the primary competitors in the food market is Kraft Foods which holds almost 11 per cent of the United States snack market. Pepsi Co holds almost 39 per cent of the United States snack market. Some other competitors of Pepsi Co in the soft drink market are RC Cola, Dr Pepper and other independent brands of particular regions.
Also Read: Indra Nooyi | The successful star CEO of PepsiCo
Does Pepsi own Mountain Dew?
The Mountain Dew brand and production rights were acquired by the Pepsi-Cola company in 1964.
What do PepsiCo own?
Pepsi Co owns 22 brands which include brands like Lay's, Gatorade, Tropicana, 7 Up, Doritos, etc.