Rupert Grint | Success Story Of The Incredible English Actor
Rupert Grint is an English actor born on 24 August 1988 in Essex, England. He rose to fame by playing the role of Ron Weasley, Harry Potter's best friend, in the famous movie franchise Harry Potter. The series is a film adaptation of the novels with the same name written by J.K. Rowling. Rupert is one of the most adored actors in the world. The critics and audience very much appreciate his acting skills.
Early Life
Rupert Grint was born on 24 August 1988 in Harlow, Essex, England. His parents are Nigel Grint, a dealer in racing memorabilia, and Joanne Grint. Rupert grew up with four siblings and is the eldest of all.
Rupert Grint had an interest in acting and performing from a very young age. While in school, he began working in school productions. His first role was as a fish in Noah's Ark and a donkey in Nativity Play. Rupert had never acted professionally before getting cast in the Harry Potter series. At the age of 16, he left school to focus on his acting career, stating he "didn't really like school that much."
Career Beginning With Harry Potter Series
When the casting began for Harry Potter and the Philosopher's Stone in 1999, Ruper Grint, a fan of the books, decided to audition for the role of Ron Weasley. He sent in a video of himself rapping about how he wished to receive the part, and the casting team asked for a meeting with him.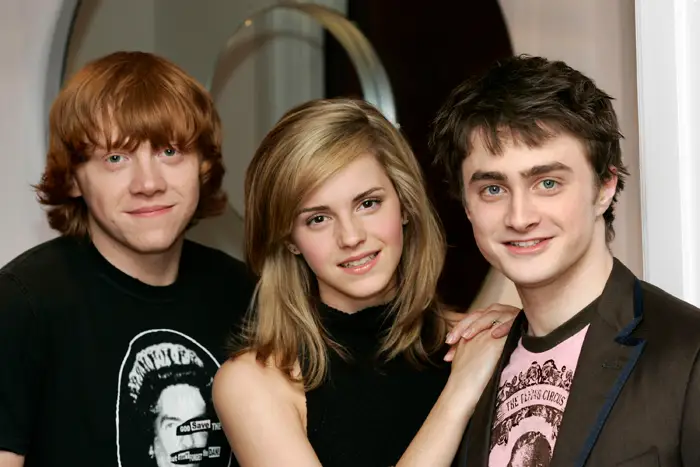 On 8 August 2000, Daniel Radcliffe, Emma Watson, and an 11-year-old Grint were selected to play Harry Potter, Hermione Granger, and Ron Weasley.
When the movie came out in 2001, it had a theatrical run of $974 million. Rupert Grint kept reprising the role of Ron Weasley till 2011, when the final installment of the Harry Potter series, Harry Potter and the Deathly Hallows Part 2, came out.
It became the fourth highest-grossing film of all time. Author J. K. Rowling gave a speech at the world premiere of the movie on 7 July 2011 in London. She said there were seven Harry Potter film series cast members whom she called "The Big Seven"; Rupert Grint was one of them, with Daniel Radcliffe, Emma Watson, Tom Felton, Matthew Lewis, Evanna Lynch, and Bonnie Wright.
Independent Films
In 2002, Rupert Grint starred in his first independent film, Thunderpants. After that, in January 2011, he appeared on the BBC comedy show Come Fly With Me.
In August 2011, Rupert became a part of the photoshoot with his Harry Potter co-star, Tom Felton. They shot for the autumn/winter collection of the fashion label Band of Outsiders. Grint also appears in the music video for Ed Sheeran's song Lego House, released on 20 October 2011.
Personal Life
Rupert Grint has been in a relationship with English actress Georgia Groome since 2011. The couple has a daughter together, born in May 2020.
Rupert took part in the 2012 Summer Olympics torch relay, carrying the flame through Hendon in northwest London to outside Middlesex University.
He joined Instagram in November 2020 and posted a photo of his newborn daughter. Rupert reached a count of 1 million followers within four hours of creating his account. He broke the previous Guinness World Records title for the fastest time to get one million followers on the platform.
Also Read: Emma Watson | Success Story Of The Enchanting Hollywood Actress
How old is Rupert Grint?
Rupert Grint is 32 years old, as of 2021.
What is the net worth of Rupert Grint?
Rupert Grint has a net worth of $50 million.