Subway | Success story of the leading sandwich joint
Subway is a well-known American multinational fast food joint. It serves customers submarine sandwiches popularly known as "subs", wraps, healthy salads and some regular beverages to go with it. Subway has its headquarters in Milford, Connecticut.
History and way towards success
Subway was founded by 17-year-old Fred DeLuca and got the finances arranged by Peter Buck in 1965 in Connecticut. It was originally known as "Pete's Super Submarines", and 3 years later in 1968, the name was changed to Subway. A restaurant was opened in Wallingford, Connecticut in 1974. Subway now has its joints spread out all over the country. The first Subway on the West Coast was started in 1978, in California while the first in the United Kingdom was in Brighton in 1996. Since 2004, Subway had started opening their joints in Walmart centres and it soon beat the number of McDonald's located inside the Walmart stores in 2007! Since 2007, it has won and has been consistently ranked in the Entrepreneur Franchise 500. It has got a rank 3 on the "Top Global Franchises" and number 1 in "Fastest growing Franchise"
Products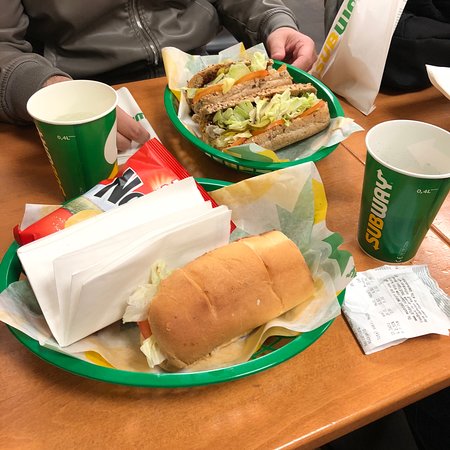 The product or the food item that it is very famously known for is its Subs or the submarine sandwiches. The joint also sells a large variety of wraps, rolls, salads, and baked items like cookies, muffins and doughnuts.
Subway has their best-selling sandwich, the BMT (Biggest, Meatiest and Tastiest) which includes various toppings like salami and ham. It also sells a wide range of breakfast sandwiches, muffins and normal bread. It can be thus concluded that Subway is a good option for a full-filling breakfast!
In 2006, "personal pizzas" debuted in some of the US markets, and very soon after this, they signed a deal to serve Seattle's coffee in their breakfast meal. Subway had announced the inclusion of paninis on the menu. Chipotle Steak, cheese triple cheese and chicken cordon bleu were the 4 variations offered.
It is to also note that the menu of Subway is not the same everywhere, it varies between countries and regions. When Subway was opened in the suburb of Cleveland, Ohio in the Jewish Community, the former spokesman announced that the menu is almost the same, only the use of pork and soy-based products are banned here.
Subway is very conscious about the health factors of people. It also has introduced Gluten Free bread to bring in the concept of "Low Fat Subs"
Downfall after Success
Subway had reached its peak, its peak of 27129 US locations as of Jan 1, 2016, but has seen the joint collapsing and shaking. In 2016, it closed its hundreds of outlets in the US, experiencing losses for the first time. As a forward plan of action, Subway decided to redesign their outlets, and also change its logo of the Company. In 2017, it had closed about 800 outlets in the US and had plans of shutting down 500 more. The reason for this downfall, as suggested by Bob Phibbs, is the changing tastes and preferences of the consumers who now preferred hormone-free meat served by many start-ups like Sweetgreen. There are also some other sandwich shops which came into the competition were Panera Bread, Bon Pain and many as such. It had to further close down some of its stores due to the Covid-19 outbreak.
Heading
Subway has its famous tagline "Eat Fresh" and it comes from the fact that all of its sandwiches are made of freshly baked bread, in front of their customers within minutes. Subway's US advertisements featured the cartoon character Peter Griffin. It also used instant win games like Scrabble. In addition to all these, Subway celebrated National Sandwich Day on November 30th, 2015 and offered a Buy One Give One promotion.
Subway in India
Subway opened its first outlet in India in 2001, in New Delhi. Due to religious beliefs, Subways in India do not serve beef products. The country's large number of Vegetarians has influenced to offer more veg options. As per data, there were 591 Subway restaurants in 68 Indian Cities in January 2017. It also has an all-vegetarian outlet serving Jain food in Paldi, Ahmedabad.
Also Read: KFC | Success Story of the World's Second-Largest Restaurant Chain
Are vegetables free at Subway?
Most people know this but ask for as many veggies as you want. Veggies are free of charge.
What bread do they have at Subway?
All of Subway's heated sandwich bread options — white bread, Italian, nine-grain wheat, honey oat, Italian herbs and cheese, nine-grain multiseed and hearty Italian.