Thierry Hermès | Success story of the classic brand Hermès
Thierry Hermès was a French businessman who founded Hermès International. He acquired the title of fashion house designer. He established his business by starting to make saddles for horses. In 1837, he showcased silk scarves' jewelry, and home decor items at his first workshop.
Early Life
Thierry Hermès was born in 1801 to an innkeeper, who earned him French citizenship. His family encouraged his interest in leatherworking. After losing all six family members to disease or war, Thierry moved to France for a new start.
As an orphan, he took care of himself in France. Later he opened up his saddle and harness shop on Grands Boulevard at 25.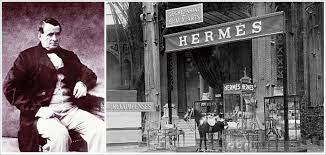 Career of Thierry Hermès
Thierry Hermès founded the company in 1837 when he began producing horse harnesses on Rue Basse du Rempart. This was a significant change, and as society transitioned from carriages to traps, he jumped at that opportunity. Also, he developed his business by building upon one strength-a stitch that could only be done by hand.
The saddle stitch was completed when two needles worked in opposition with two waxed linen threads. The rich people his clients were: the Parisian beau monde and European royalty. People like Emperor Napoleon III and Empress Eugenie of France were his routine customers.
Later, when his business succeeded, he indulged in the craftsmanship of trunks, handbags, and zippers.
The family affair of Hermes
Hermès had one son with his wife Christine Pétronille Pierrart (1805-1896) who they named Charles-Emile. Charles-Emile had two sons, Adolphe and Emile Maurice, who were involved in the family business building elite clientele worldwide. After Hermès started his harness company, his son took over the family's store at 24 rue du Faubourg Saint Honoré.
In order to be close to wealthy clients, Adolphe left Emile with the company since he believed that this business, in particular, didn't have a long future. After noticing the demand for saddlery from carriages drivers and train passengers, Emile-Maurice directed Hermès' work towards "saddle-stitched" leather goods and trunks for customers who traveled by cars or ships.
After Emile-Maurice realized the company was diving into the age of automobiles, they acquired a two-year patent for their zipper. They called this "the Hermès Fastener." Once it was introduced, clothing changed forever! Other businesses like Coco Chanel wanted to learn from them due to how fast they grew and people's admiration.
Emile Hermès' sons-in-law, Robert Dumas-Hermès (1898-1978) and Jean René Guerrand Hermés (1901 -1993) took over the company in 1950. The contributions of his children and grandchildren influenced the company. In 1993, family members earned 80% of shares during an initial public offering, but now it is around 50%.
Thierry Hermès and his legacy
Hermès is a fashion house that has many innovations. For example, the Hermès zipper was founded in 1923 and is still used today in their handbags. Around the 1930s, they also launched some classics like the large crocodile handbag, later called Kelly after Grace Kelly.
Later, the company began by selling ties, watches, and new scarf designs. Today, Hermès offers products such as charms (starting at $40) and an oversize panda-bear bean bag made of Clémnce bull calf leather that costs up to $100,000! One of the known classics is Birkin after actress Jane Birkin. It was created in 1984 by Jean Louis Dumas.
Hermès has over 280 stores worldwide, with a new color theme every year. It produces limited edition items like the "Year of the River" (2005) silk scarf.
Six generation business achieved many things mainly in 1837 Thierry Hermès for his harnesses embodied discreet finesse and a technical achievement he was awarded at the Universal Exhibition of 1867. And in 1992 Opening of pantin site on the floor of 24 was awarded as the operation received the Prix de l'Équerre silver award in 2014.
Recent Update:
In February 2022, to keep up with the demand of Birkin and Kelly Handbags, the French Luxury Brand made a decision to to open three new factories. The construction of the factories is set to be completed by 2024. New factories are being constructed in French towns of Louviers, Sormonne and Riom.
Also Read: Christian Dior | The Signature Style of the House of Dior
Is Hermès a Luxury Brand?
Yes, Hermès is a French luxury goods manufacturer.
Why are Hermès products exclusive?
Almost all of their products are handmade, hence they are expensive and exclusive.
What is the price of a Birkin Bag by Hermès?
Hermès Birkin bags range from $40,000 to $500,000 for a single bag.