PhonePe | A Leading digital Payment application in the trending market
PhonePe is an emphasized comfort and easily preferred online payment method, always a feel of pocket in money. A solution to all kinds of payments that helps in an open stable transaction ecosystem with a positive impact. In a short period, it has earned a larger audience on its platform. It shows the influence of PhonePe since the day it started marketing. Excursion of the PhonePe for all over wide users.
comparatively, it is ruling the market with all kinds of payment options. And various features such as band details attachment, funding handles, and insurance maintenance. Moreover, one-stop for purchases and instant money transfers, a mobile wallet is hands-free of money and non-risky transactions.
Start of business
In recent years, it has even been very critical for humans to touch. Hence, people barely stepped out for things they wanted to buy or for business and transactions. That, increased the digital payment to 76%, showing the potential for digital payments growth.
The business idea was triggered by the ex-employees Sameer Nigam, Rahul Chari, and Burzin Engineer of the Flipkart, in 2015. Overall, the app gave tremendous financial growth and ex-employees back at Flipkart to increase the rate.
The name of the app evolved as the keyword "Pe," thereby evoking the Hindi connotation. Altogether the term, making "PhonePe" sounds like "on the phone," And a tagline Karte Ja. Badhte Ja," which means "Keep doing, keep growing," shows a growth towards success or positivity.
The PhonePe started with an intention to have huge endless, and then easy transactions with safety just in some random clicks. Soon though to expand the business and build big enough to support the entire ecosystem, making a positive impact.
Business growth of PhonePe
PhonePe growth is taking a year very rapidly after its innovation launched a UPI-based mobile payment app based on the government-backed UPI platform. Following, three months launch of the version, it became the fastest Indian payment app to get a five-crore badge on the Google Play Store.
Moving forward in 2018 and further partnered with RedBus, Ola, and eat. Fit Goibibo and Swiggy helped users with unified login and payments experience.
In 2020, international insurances will offer and chat feature to have conversations. During the covid times, it launched a coronavirus-specific insurance product. Hence users can cover hospitalization costs in partnership with banks in hospital cash insurance with ICICI.
Motor insurance on instant tap than also a central digital platform for buying gold with a 35% market share. And UPI-enabled AutoPay mandates since the launch of the AutoPay functionality feature. In 2019, its growth dominated by 857.22%, and in FY21, above all operations, it scaled up the revenue by 85.5% to Rs 690 crores.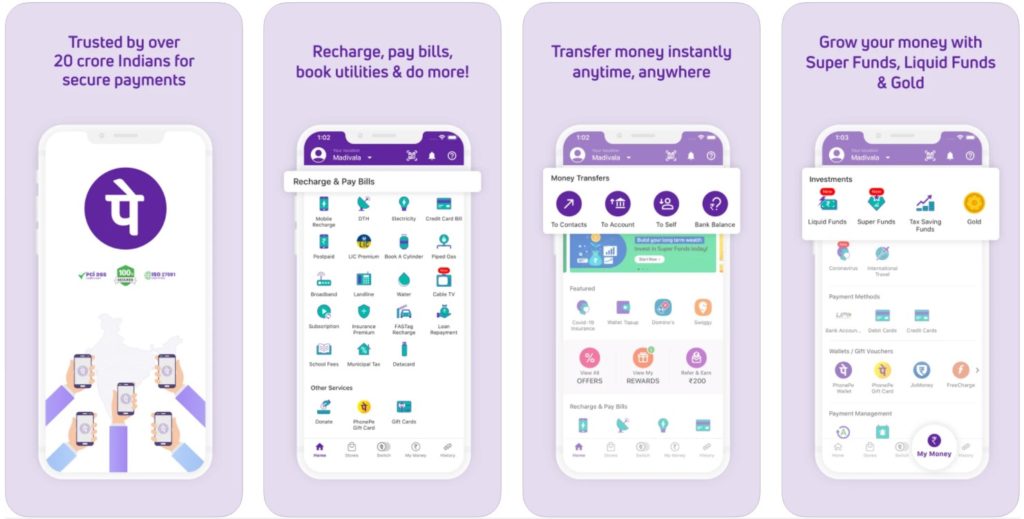 Awards
| | | |
| --- | --- | --- |
| Year | | Award |
| 2018 | – | Recognized by the National Payments Corporation of India (NPCI) for driving the largest number of merchant transactions on the UPI network |
| 2018 | – | Best Mobile Payment Product or Service Category at the IAMAI India Digital Awards 2018 |
| 2018 | – | The UPI Digital Innovation Award from NPCI |
| 2018 | – | The super StartUp Asia Award |
| 2018 | – | India Advertising Awards 2018 in the Telecom and Technology category |
| 2019 | – | The 'Best Mobile Payment Product or Service' at the 9th India Digital Awards 2019 organized by IAMAI |
| 2019 | – | 'Best Digital Wallet' Initiative at the Indian Retail and eRetail Awards |
| 2019 | – | Awarded the 'Best Digital Wallet' initiative at the 8th Annual Indian Retail & eRetail Awards 2019 organized by Zee Business and The Economic Times |
| 2021 | – | At IAMAI India Digital Awards 2021 – Gold for Excellence in Wealth Management (for Mutual Funds category) |
| 2021 | – | At IAMAI India Digital Awards 2021 – Silver for Unstoppable India video |
| 2021 | – | The 'Excellence in Insurtech' award at Assocham's Fintech & Digital Payments Awards 2021 |
List of awards from 2018-2021
Future Holds
Social app usage is increasing our bonds are getting more robust with sharing and care even with Shield of the many hurdles and diseases hitting every interval. Thus, caring and sharing should never stop, right? So PhonePe with all the features enhanced to make loved ones happy with contact-less transactions and comfortable service. 
And they were also planning to build a product with shop details so users can visit with timing and make time to visit. A chat service that is easier to handle transactions. Then, tracking the user activity thinking to enhance remarkable changes in two more years.
Also Read: Dunzo | "Just Dunzo it" – Friendly app that is easy to order things at a doorstep
What is traffic of the PhonePe app?
According to 2022, it crossed 350 million including new users.
Who is parent owner of the Phonepe?
It is owned by Flipkart and Walmart.