Hilary Duff | Success Story of the Multitalented Artist
Hilary Duff is one of Disney's most prominent artists. She has been a part of the entertainment industry for nearly three decades. Hilary gained global recognition after starring in Disney's Lizzie McGuire. She has inspired groundbreaking artists like Selena Gomez, Miley Cyrus, Demi Lovato, and Bridgit Mendler. Hilary's singing career helped her in gaining wider recognition. She has sold over 15 million records globally. As of 2022, Hilary is a part of the main cast on Hulu's How I Met Your Father.
About
Hilary Duff is an American singer, songwriter, actress, producer, author, and businesswoman. She rose to fame at age fourteen after portraying Lizzie McGuire in Disney's comedy TV series of the same name. Hilary is one of the most successful artists of the generation. She is famous for her incredible acting and singing skills. In 2010, she co-wrote a trilogy of novels with Elise Allen. The novel Elixir became a New York Times Best Seller. Hilary has collaborated with several top brands and invested in major business lines. For over a decade, she has produced various films and TV series.
Early Life
On the 28th of September 1987, Hilary Erhard Duff was born in Houston, Texas, USA. Her father, Robert Erhard Duff, co-owned a chain of convenience stores. In contrast, her mother, Susan Colleen Duff, was a homemaker who later became a producer. Hilary has one older sister Haylie, a renowned face in the entertainment industry. From a young age, Susan wanted her daughters to become artists. She enrolled them in singing, acting, and ballet classes. Soon, both girls landed roles in local theatre productions. After that, six-year-old Hilary and eight-year-old Haylie participated in a ballet company's production of The Nutcracker. They had to travel to San Antonio with their mother to join in the act.
Both Hilary and Haylie showed interest in performing arts. As a result, their mother decided to move to California. However, their father stayed back in Houston to manage the business. Susan felt the girls would get better opportunities in California than in their hometown. The decision was correct, and Hilary and Hailey got parts in several commercials. After moving to California, Hilary had to begin home-schooling. Throughout her childhood, she auditioned for several roles and landed a few minor parts. Her father visited the family every few weeks. However, Hilary missed her childhood due to regular auditions and filming. She could never cherish everyday life but always felt grateful for her opportunities.
Beginning of Career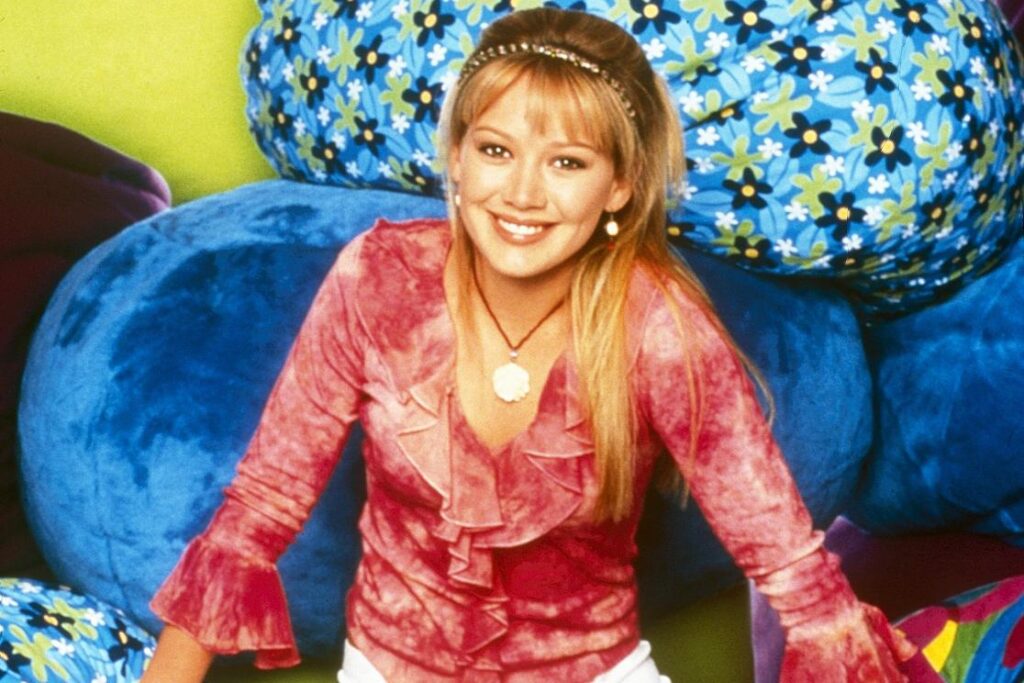 During her initial years, Hilary played a few uncredited roles. However, it didn't take her long to get a significant opportunity. In 1998, Sean McNamara cast her as the main lead in the fantasy comedy film Casper Meets Wendy. Hilary was ten years old at the time. For the role, she earned a nomination for the Young Artist Award. The following year, Hilary played a supporting role in the made-for-television film The Soul Collector. In 2000, she was set to act in NBC's comedy-drama Daddio. However, the producers dropped her before the show aired. As a result, 13-year-old Hilary was heartbroken. At the time, she decided to leave the industry. But her mother encouraged her to keep moving forward.
Pathway to Success
Hilary took her mother's advice and did not give up. After a week, she got selected as the lead star in the Disney channel's Lizzie McGuire. The show premiered on 12th January 2001. It was an instant hit among viewers. Each episode garnered over two million viewers. As a result, Hilary became a renowned name in America. She was just fourteen at the time. Through Disney's clever marketing, the show gained wider recognition across the globe. Hilary became a teen idol and starred in two movies the following year. Simultaneously, she began recording songs for Lizzie McGuire and DisneyMania. Hilary felt that she could do well in the music industry. Hence, Disney helped her release her debut album. After several re-releases, Hilary's debut album Santa Claus Lane gradually garnered success.
Worldwide Recognition
In 2003, Hilary returned as Lizzie McGuire in Disney's The Lizzie McGuire Movie. The film's soundtrack received positive reviews and became Hilary's first chart-listed song. The same year, she released her second studio album, Metamorphosis. It failed to garner critical acclaim but earned massive commercial success. Within a week, it sold over 200,000 copies. During the 2000s, Hilary continued to make music and act in significant projects. However, she failed to achieve positive critic reviews. Hilary's popularity grew during the 2010s after she showed her outstanding acting skills in successful projects like Beauty & the Briefcase and Younger. Through these powerful performances, Hilary Duff became one of Hollywood's most renowned artists.
Also read: Ashley Tisdale | Success Story of the Famous Actress and Singer
How old is Hilary Duff?
Hilary Duff is 35 years old as of 2022. She was born on the 28th of September 1987 in Houston, Texas, USA. She is one of the most prominent American artists globally. Hilary began her career at age six. Her sister Hailey Duff is also a recognized artist.
What is the net worth of Hilary Duff?
Hilary Duff's net worth is estimated to be $25 million. She has been a part of the entertainment industry for nearly three decades. Hilary rose to fame at age fourteen after portraying Lizzie McGuire in Disney's comedy TV series of the same name.
Is Hilary Duff married?
Yes, Hilary Duff has been married to Matthew Koma since 2019. Earlier, the actress was married to Mike Comrie from 2010-2016. Hillary has two children with Matthew Koma.