Virgil Abloh | The Man Behind Revolutionization of Streetwear
Virgil Abloh was a boundary-breaking fashion designer. Through his creativity, he modernized streetwear and made it accessible. Throughout his career, many controversies followed him. However, he rose above all the obstacles and became one of the most prominent fashion designers in the history of fashion. He founded the luxury streetwear brand Off-White. In less than a decade of launching, Off-White became the best-selling luxury streetwear brand in the world. In 2021, the iconic designer succumbed to cancer. The world was in shock after his untimely demise. However, Virgil Abloh's unparalleled success and legacy will continue to live through Off-White and the ideas he left behind.
About
Virgil Abloh had a multifaceted career. He was a designer, architect, DJ, engineer, art director, and above all, an artist. He is one of the few people of color who gained unprecedented success in the fashion world. His brand, Off-White, surpassed the popularity of fashion giants like Gucci, Prada, and Balenciaga in 2018. In the same year, he created history by becoming Louis Vuitton's artistic director of menswear. Throughout his career, he garnered several prestigious accolades. Renowned celebrities like Kanye West, Jay-Z, Rihanna, Kylie Jenner, Gigi Hadid, and Bella Hadid endorsed his brand Off-White. 
Early Life
Virgil Abloh was born on the 30th of September 1980 in Rockford, a city in the northern part of Illinois. His parents had immigrated from Ghana, a Western African country. As a child, Virgil loved skateboarding, playing soccer, and listening to music. His mother worked as a dressmaker, and his father managed a paint company. Initially, Virgil was not interested in fashion or art. He spent most of his time roaming around and shopping. For studies, he attended the Boylan Catholic High School in Rockford. After completing his studies, his parents insisted that he should study engineering and architecture. Virgil agreed with his parents because he had not decided what he wanted to do with his life. Consequently, he joined the University of Wisconsin-Madison to pursue engineering. In 2002, he earned a B.Sc. degree in civil engineering.
After that, to study architecture, Virgil moved to Chicago. His architectural journey began at the Illinois Institute of Technology. While studying at IIT, Virgil started gaining interest in fashion design. He came across Dutch architect Rem Koolhaas. Rem was working on a project at IIT's campus, and he had previously worked with runway collections of a renowned luxury brand, Prada. Rem's way of working and artistic style impressed Virgil. Through Rem, Virgil's gateway to fashion opened. Soon, his inclination to fashion made him write fashion blogs. Simultaneously, he gained interest in designing t-shirts. Unknowingly, he started walking on the path that would create history.
Beginning of Career
One day, American streetwear designer Don C came across Virgil. They met through Kanye West's that time manager John Monopoly. John and Don C were looking for a new designer to work on Kanye's upcoming projects. Virgil had posted some of his designs on popular fashion blogs. John noticed Virgil's work and approached him. Soon, he introduced him to Don C. Don asked Virgil to work on some designs. As a result, Virgil started doing commission-based work for Don C. John, and Don C liked Virgil's work and introduced him to Kanye. They met at a local print shop where Virgil worked on his designs. Kanye was impressed with Virgil's creations. Consequently, he hired him to work on his first fashion project, Pastelle. Virgil worked as a creative assistant for Kanye in 2007.
Later on, in 2009, the duo reunited in Paris. They interned together at the luxury fashion house Fendi. The same year, Virgil opened a store in Chicago with Mark Moran and Don C. It was named RSVP Gallery. The store in Wicker Park offered luxury, contemporary, and streetwear labels like Chanel, Comme des Garçons, and Bape. Through RSVP Gallery, Virgil stepped into the limelight. In 2011, Kanye asked Virgil to be his official creative designer. Later, Virgil and Italian fashion designer Riccardo Tisci designed the cover art for "Watch The Throne." It was a collaborative studio album by Jay-Z and Kanye West. The cover art earned Virgil his first-ever Grammy Nomination.
Initial Years of Off-White
In 2012, Virgil founded the highly controversial brand Pyrex Vision. The collection of Pyrex Vision primarily consisted of Ralph Lauren's deadstock products and plain Champion tees. Virgil bought these clothes for as low as $40 and sold them for over $400 by screen printing his designs. Pyrex Vision gained immense popularity due to its idiosyncrasy. However, controversies kept on following the brand. As a result, Virgil decided to rebrand Pyrex Vision. In 2013, he launched Off-White. Quotation marks, barricade tape, slant stripes, and zip ties were some of its signature marks. The exclusivity of Off-White made it extremely popular among Millennials and Gen Z. Within a year of launching; the brand started dominating the fashion world.
Unparalleled Success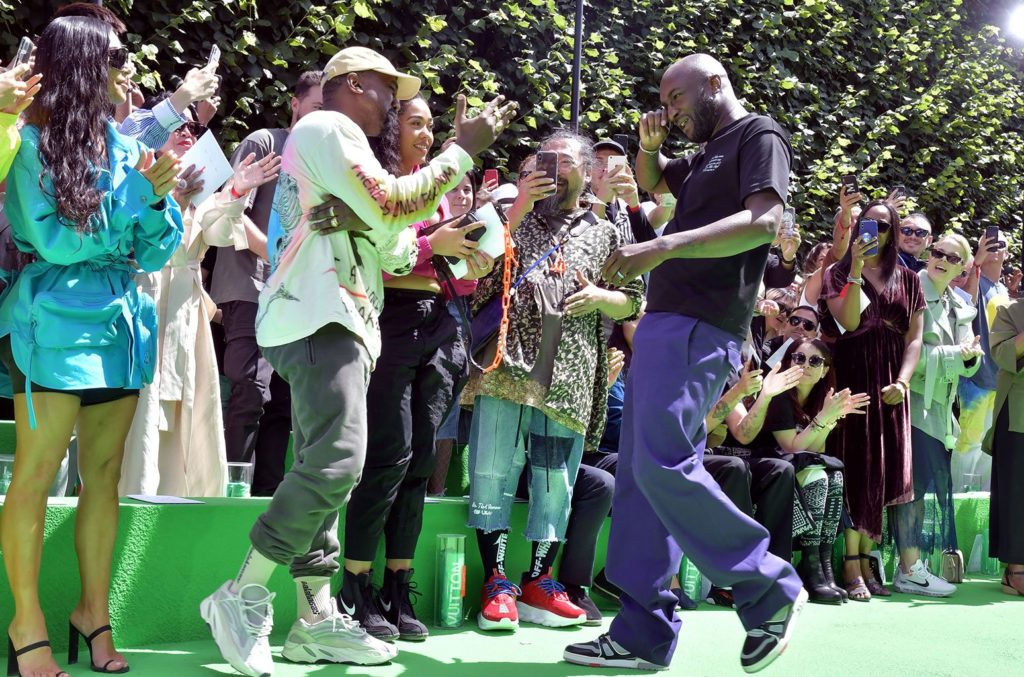 In 2014, Virgil launched a womenswear line under his label Off-White. He displayed the collection at Paris Fashion Week. People across the globe loved his designs and admired his creativity. Things changed drastically for Virgil after the Paris Fashion Week. He established his name in the fashion industry. His brand started growing at a progressive rate. A-list celebrities were wearing his designs. His brand became a finalist for the prestigious LVMH Prize in 2015. Through these successes, Virgil grabbed multi-billion dollar collaborations with the most prominent brands in the world. In 2017 alone, he collaborated with Nike, Levi's, Jimmy Choo, Warby Parker, Ikea, Umbro, Kith, Lil Uzi Vert, Chrome Hearts, and many more. He achieved unprecedented success. His collaboration with Nike is one of the most significant collaborations of the century.
2018-Present
In 2018, he became the first-ever person of color to be entitled to Louis Vuitton's artistic director position. He changed the culture of fashion. Besides the extraordinary contribution to the fashion industry, Virgil involved himself in numerous fundraising events. He raised more than $1.5 million for various organizations. Throughout his career, he created magnificent collections and inspired millions of people. Time Magazine named him one of the year's most influential people in 2018.
The following year, he took a break from work on his doctor's advice. After a few months, he returned with an astonishing collection in Paris. It was Louis Vuitton's Men's Spring 2020 collection. Virgil collaborated with the finest brands, and his label was growing progressively. However, on the 28th of November 2021, he passed away after battling cancer for more than two years. Virgil's vision and hard work made him achieve unequaled success. As of 2022, his brand Off-White continues to carry his legacy through the ideas he left behind.
Also read: Yves Saint Laurent | Success story of the international brand 'YSL'
Why is Virgil Abloh famous?
Virgil Abloh made a huge contribution to the world of fashion through his label Off-White. He is famous for his unique designs and historical collaborations with the most prominent brands in the world.
What did Virgil Abloh do for Kanye West?
Virgil and Kanye met through John Monopoly and Don C. Virgil became Kanye's creative designer and the two worked on many projects together.
Why did Virgil name his brand Off-White?
According to Virgil, the name Off-White defines the gray color between black and white. Under Virgil's leadership, the brand released several distinctive and cohesive designs. Initially, most of the collection launched by Off-White was either black or white.